Corporate Partners
---
SynQuest Labs became part of the Central Glass Group in 2002.

Central Glass was founded in 1936 with the aim of manufacturing and selling soda products. With subsequent changes in its business structure including launching into glass business and expansion to fine chemicals business, Central Glass has established the solid business base by covering both "commodities & fine" and "glass & chemicals". Central Glass has over 70 years history of commercial production of a wide range of fluorochemical products, including trifluoromethanesulfonic acid and its anhydride, chiral and achiral fluoroorganic products, specialty fluorinated gases and polymers.
View the Central Glass Website

Central Glass Germany has more that 50 years operational history in the production of Active Ingredients (API and ACI) under cGMP, and is dedicated to process development, upscaling and production of active ingredients and intermediates for the pharmaceutical and cosmetics industry. It operates a FDA and EU inspected facility in Halle-Künsebeck, which it acquired from Girindus in June 2008. An experienced and highly skilled team of organic chemists and support functions, such as analytical specialists and QA/QC team, ensure success and high quality of our projects.
View the Central Glass Germany Website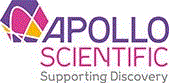 Apollo Scientific, UK, is a leading supplier and manufacturer of research chemicals, with particular strengths in aromatic fluorochemistry and heterocylic building blocks.
View the Apollo Scientific Website
Hydrus is SynQuest's authorized distributor in Japan.
Together, these companies cooperate closely and efficiently, supporting each other with production and marketing of their combined product ranges, from research quantities to full scale plant product.